Governor Hassan Joho is on Monday expected to lead a battery of politicians in a meeting with county security chiefs to deliberate on the recent wave of killings that has hit Kisauni
You are using an older browser version. Please use a
supported version
for the best MSN experience.
Killer gangs run amok in Mombasa

Daily Nation
10 hrs ago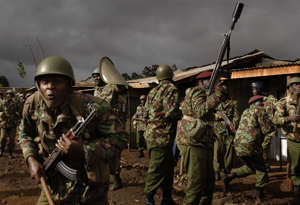 Governor Hassan Joho is on Monday expected to lead a battery of politicians in a meeting with county security chiefs to deliberate on the recent wave of killings that has hit Kisauni and Nyali sub counties.

The murders are believed to have been carried out by a dreaded gang that has killed at least 20 people and seriously injured many others.The spiraling crime wave claimed former Kilifi deputy governor Kenneth Kamto, who was gunned down by unknown gunmen in Nyali suburbs on Wednesday last week, as its latest victim.
Related Slideshow: News In Pictures (Provided by Photo Services)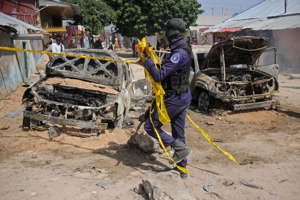 Governor Joho said the meeting will also focus on how best local communities may be involved in combating crime to stem the rise of the dreaded gangs.He said a campaign dubbed "Get Involved" will be launched to incorporate the citizenry in the fight against insecurity.
THE TASK
"All this is happening because the residents have shirked their responsibility. We should all be involved in maintaining security in our neighbourhoods," said Mr Joho last week at Tononoka grounds. Nyali and Kisauni residents have been living in fear due to the gangs who maim, kill and injure their victims.
Some villages are no-go zones with the gangs using posh houses as their hideouts. For months now, criminals gangs armed with guns and machetes have instituted a reign of terror attacking residents and negatively affecting business in the areas.
Minimal incidents of insecurity have been reported in Jomvu and Changamwe sub counties, with Changamwe police boss Peter Omanwa attributing this to effective community policing.
INVESTIGATIONS
The meeting comes three days after security agents launched investigations into claims that politicians are funding criminal gangs in Kisauni and Nyali. Coast regional coordinator Bernard Leparmarai — who is the chairman of Coast security team — assured residents that police will put all their efforts into unraveling those behind the gangs."Somebody must be funding these people and I want to tell you that whoever it is and however connected or big you are, we will come for you. Our investigations are on and we will end what is happening in these areas," Mr Leparmarai said on Thursday. Nyali MP Mohammed Ali also claimed that politicians who lost in the last General Election were sponsoring the gangs.