The calls to rein in Mark Zuckerberg have never been louder
Details

Fast Company
A year ago, under Senate questioning, Mark Zuckerberg dodged, denied, and deflected criticisms of the company he cofounded. A year later, with major fines looming, and Facebook's stock price having risen again
An unusual level of power
Color of Change and Majority Action are calling for investors to withhold votes on a nomination of Zuckerberg to the company's board at the May 30 meeting and asking investors to support proposals calling for an independent board chair, expanded transparency, equal voting power among shareholders, and a requirement that directors in uncontested elections be chosen by holders of a majority of votes cast. Two of the proposals call for annual reports on risks of content governance and gender pay inequity. As is customary for corporate boards of directors facing shareholder proposals regarding internal governance, Facebook's board responded to each of the proposals by recommending that stockholders vote no.
The Facebook board has sought to assure investors that its current leadership and internal reviews are sufficient. In addition to expected changes mandated by an FTC settlement, including the possible addition of a chief privacy officer, the company is now undertaking an internal civil rights audit after years of campaigning by civil rights groups, including Color of Change.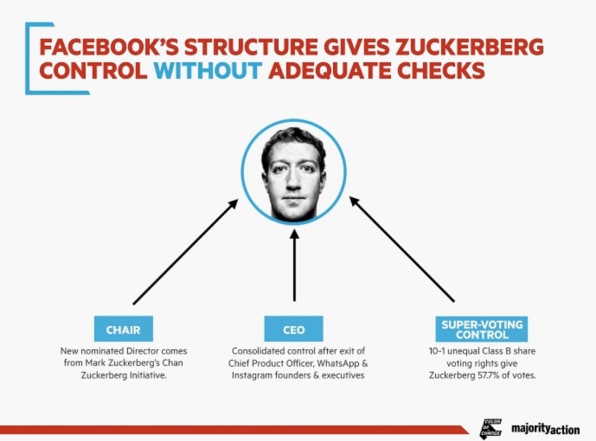 Majority Action and Color of Change say they are concerned with Zuckerberg's near total control of Facebook, and not just his 57.7% of voting shares. The newly nominated chair director, Peggy Alford, comes from an executive position at his own Chan Zuckerberg Initiative, a for-profit limited liability corporation that can lobby politicians and make political donations. And Zuckerberg's control over Facebook has only grown stronger after departures by the company's chief product officer and the executives of WhatsApp and Instagram. In November, Zuckerberg told CNN that while he doesn't plan on leading Facebook forever, stepping down now doesn't "makes sense."
Zuckerberg's dual role is also considered unusual in Big Tech: at Google, Microsoft, Apple, and Twitter, separate people serve as chief executive and board chair.
In their letter to the SEC, Majority Action and Color of Change noted that over 35% of shareholders already withheld votes for reelecting Zuckerberg as board chair in 2018. This minority block of voters includes shareholders Wells Fargo Funds Management LLC, Deutsche Asset Management, and Vanguard, the company's largest investor.
Last month, a group representing some of the biggest public pension funds invested in Facebook—including treasurers in Illinois, Rhode Island, Connecticut, Oregon, and New York City—also asked the board to shift to an independent chair at the upcoming meeting.