The 'Siesta Key' Finale Taught Spencer Pratt that Not All Airtime Is Good Airtime
Details

Cosmopolitan
"I never thought I would say that."
The 'Siesta Key' Finale Taught Spencer Pratt that Not All Airtime Is Good Airtime
"I never thought I would say that."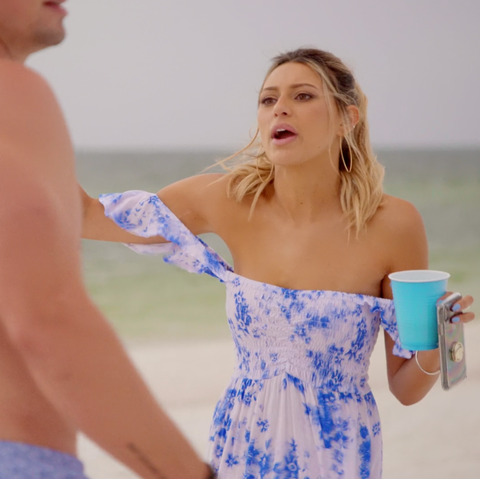 That's it, summer's over. The final episode of Siesta Key has come and gone, leaving us with more questions than answers. Are Juliette and Alex truly over? Are Brandon and Madisson back together? How is long distance going for Cara and Garrett? Most importantly, how the hell is Chloe selling houses when she doesn't have a real estate license?
You know who had a lot of feelings about the season ending: Spencer Pratt and Heidi Montag. We caught up with the king and queen of reality TV to get their thoughts on the highs, the lows, and mysteries surrounding last night's explosive finale.

On who made the worst choices this summer:
Alex for cheating, obviously. And Juliette for not getting wise to his game sooner.
She's finally had enough, but it took her 12 episodes to get there. Juliette should have just broken off this little romance at the beginning of the summer. Then she would still have all her nails and slept way more, which is really important when you're going into your senior year of college. Gotta keep your energy up for the one to three classes you're taking.
I love how everyone's done with this relationship, including Juliette's mom. Mad respect to her for pausing the conversation about Alex to take a giant swig of her champagne. Heidi was watching Juliette's mom call her out and was like, "Oh wow, so all of this was real."
Juliette's going to drive her mom to an alcohol problem if she doesn't stop messing with dudes who have boats.
On who made the best decisions this summer:
That would obviously be Chloe. Not only did she bring down the Russians, but she managed to sell a fake house, despite only being an intern. Everyone knows fake houses are the hardest ones to sell! Big step up from raking sand!
Heidi: I'm going to put Juliette in this category too. She came back this season and decided to be a star. Was she a hot mess for a good part of the summer? Absolutely. But she's the one we're watching in the last scene, so…
On Cara:
I've figured it out. She's fake-rich. I know, because any girl who was actually rich would just pay for her boyfriend to dump his "personal appearance" tour and go to Italy with her and her family.
Worried about long distances? Why don't you just whip out your black AMEX and say "I'll pay your day rate. Just make sure you work my grandma out real good, she's got that bad back." How is she playing like she's an international landlord when she can't afford a mid-range personal trainer?
On Chloe agonizing over telling Juliette about Alex hooking up with his ex:
Chloe's job in The Key is to make sure that everyone knows everyone's business, one hundred percent. She's got a newsletter and a public access show that comes on every night at 7. I don't get why we're sitting here pretending that she's somehow holding this information back for Juliette's sake.
I thought that that video would be—cover your ears, Heidi—some hard-core action, based on how they were hyping this up, but it's just Alex kissing a girl who isn't his girlfriend. Isn't that just Tuesday night?
On Pauly Paul calling Chloe manipulative:
None of this is news. The better question is why his best friend is cheating when he knows that Chloe will always get the dirt? Chloe's a gossip. We all know that. But we also know that Chloe's information is always good. It's fine if you don't like her, but if she's in your friend group and telling on you, maybe you shouldn't have been doing any shady shit like letting two girls "sleep" in your bed in the first place.
On Pauly Paul's behavior in general:
Pauly definitely got more airtime this season, but it was a good lesson for me: Sometimes airtime just isn't worth it.
I never thought I would say that, but it's just hard when you root for somebody and you're like, come on, this is your finale, get it together, and you don't see any growth. How many days did he work in Alex's mom's smuggling operation before his grandma gave him his trust fund back? I didn't see any IG videos of him doing planks with Garrett either.
I'm a little worried that his grandma just thought, "Pauly's sad and he'll die if he doesn't get his car back," so she just got him a new one. But the way he was acting with Alex, it was clear homie learned zero lessons.
I think he's going to get a nice diamond necklace for sticking up for Alex at Cara's party though, so he's going to be fine, even if he has no friends now. Alex is going to find out which bait shop Juliette pawned that fishing lure at and get it back for Pauly.
I know he's out here trying to protect The King of The Key, but his argument that Juliette's friends are telling her to leave Alex even though they've all slept with him is so awful. That's not really a point. Does Pauley think these girls are still invested in Alex? He's right that they might not have Juliette's best interests at heart, but he's so drunk, he's not making any sense.
I feel like Pauly had a script that he and Alex went over and over, but Pauly got drunk and forgot everything. He had all of Alex's points written on his hand, but then it got really hot and they just all sweated off. He's out here hoping Alex will give him an A for effort.
On Pauly getting kicked out of Cara's party:
It made me feel bad for Pauly again. Chloe threw ice at him and then he retaliated and everyone was like, "oh my god, you can't do that!" It's like—she threw ice in his face! Maybe focus more on the fact that he called Juliette garbage. Chloe's going to be fine. It's very 2009 reality television. Haven't we progressed from drink-throwing?
On Alex deciding not to go to Cara's party:
I bet both Cara and I would have loved the drama of him showing up, but we got the one-two combo of his parents enabling him instead, which was just as good for the story.
I can't believe he was talking about Juliette breaking up with him and said, "I got her a diamond because she's never had a real diamond in her life." First of all, I still need proof that the necklace even has one diamond in it, because production was sure reluctant to give us that zoom. I bet she had trouble pawning it because no one had heard of the brand before. It's like "uh, ma'am, you know Kay Jewelers has a return policy. You can just swing by your local outlet mall.'
Second, I actually can believe he thought he was in the right here. Giving people things has worked for him his entire life. It's even worked on Juliette three times.
My advice: Alex needs to work on his personality or start buying bigger diamonds if that's his game.
On Alex blaming other people for the demise of his relationship:
He's going to be a great lawyer. Or a great "whatever," as Juliette would say.
On Alex's parents:
Heidi: I was so disappointed in his parents. They're not only enabling him, they're fully validating him. I understand wanting to support your son on TV, but you're not helping him at all. The reality is your son's been disgusting and awful toward Juliette. He's degraded her, cheated on her. There's no way he's right in any sense of the word.
Spencer: Heidi said, "I wonder what goes on in their marriage." In Gary's defense, I don't think he ever believed Alex and Juliette was a real relationship. Alex probably never showed his parents he cares about Juliette. I feel like his mom wanted to give him some real talk and then she realized she was on camera and was quick to be like, "We're always on your side! On your side!" She was like a mom at a murder trial.

On Kelsey and Garrett reuniting (and it feels so good) at Cara's party:
I could listen to those two talk for five hours. These two should be together. They really get what it's like to live on the road. I was done with Cara when she started calling people trashy. Okay, girl, but who's the one who can't afford Garrett's personal-training sessions?
Heidi: Kelsey is much more down-to-earth and kind. And she's got a lot more going for her too. I get why Cara's jealous, but you don't take it below the belt and start being nasty about Kelsey and her mom. I can't even repeat it.
It's one thing to be superficial and bratty and whatever her little character is, but to go to that level, I didn't think was cool.
Spencer: Cara has nothing to worry about. Also, what was this thing about her fake lips and her fake earrings? If those earrings were real they'd cost like $480,000. You know why Kelsey's wearing fake earrings? Because she donated all the real diamonds to her mom's foundation. Maybe you just have different priorities, Cara. And her lips look great!
Heidi: Garrett's right, how stupid did she sound calling him out for speaking to his ex at a party when Cara went over to Alex's house at night without telling anyone? She needs to learn that Garrett's not her puppy; he's her boyfriend. And she's going to have to treat him a little differently if they're going to stay together.
Spencer: It was a great "touché" when Garrett brought up that Cara was over at Alex's house at 9:30 at night. Only Garrett and his fitness lifestyle would do that. It's like he has a 1-year-old baby. He and Heidi have the same schedule.
On Garrett calling Cara 'Kelsey':
Honestly, Garrett's so used to arguing with girls in The Key that he was going to mix them up at some point. Heidi wouldn't like it if I called her another name.
Heidi: Like "intense"?
Spencer: No, like another girl's name. I called Heidi "intense" yesterday and I might as well have called her LC. Not making that mistake again. No, sir.
On Kelsey giving Brandon advice on getting back together with Madisson:
Not even Kelsey could pretend this was real and this is the girl who creates a forcefield of reality distortion wherever she goes. She's telling him to go for it, but her eyebrow raise was saying, "Good luck, cheater."
On #Bradisson:
They really tried to fake us out with that kiss. Did they really think we were going to fall for no lips and a shot from behind? If we can get shots of Kelsey making out with Jared in the middle of the night and catch Brandon leaving a motel with a long-range lens, we could have gotten someone to take some film from the side of this "kiss."
On Chloe and Amanda showing Juliette the cheating video:
They were acting like they were watching some proof-of-life torture video or something. Like ISIS had Juliette's mom (which would never happen because ISIS knows better than to mess with Chloe's friends).
Relax, it's just Alex cheating. At this point, I don't feel like it warranted that type of energy. It felt like they were watching Zero Dark Thirty, when it was just some cheater doing his thing. I'm tired of this story line.
On Juliette breaking up with Alex and going back to school:
What she really broke up with was the commute. That smile on her face in the end? That's the face of a woman who doesn't have to drive five hours back and forth every weekend because her boyfriend is pretending he's in law school.
Heidi was fist-pumping when Juliette went into her monologue. She was just cutting through his BS and he didn't even have a response. This was truly Juliette at her most presidential. Watch out, season three: The Key isn't a patriarchy anymore. Let's get her a boat and see how she rules from the Iron Throne.
On his feelings about the season ending:
This finale made me realize how important this show is to my life. It's like the one thing Heidi and I watch consistently on a weekly basis. I'm just gonna have to play Carly Rae more often.
Next season, I want new story lines, new drama, and more shots of the tiki bar. I want to see everyone grow as people. The only thing I don't want is more Alex and Juliette drama. It was fun, but we're done now. This isn't Jersey Shore. We don't need another season of Ronnie and Sammi breaking up in the club.
There's still one huge mystery on The Key, and it's how Chloe's selling houses when she's not a real estate agent. I'd say someone should look into it, but you know Chloe's the only one with those skills.